Honey Calcium Alginate Dressing, 2x2 Manuka Honey Wound Care Pads, Medical Grade Honey Patches, Latex-Free Wound Dressing, Sterile and Individually Packed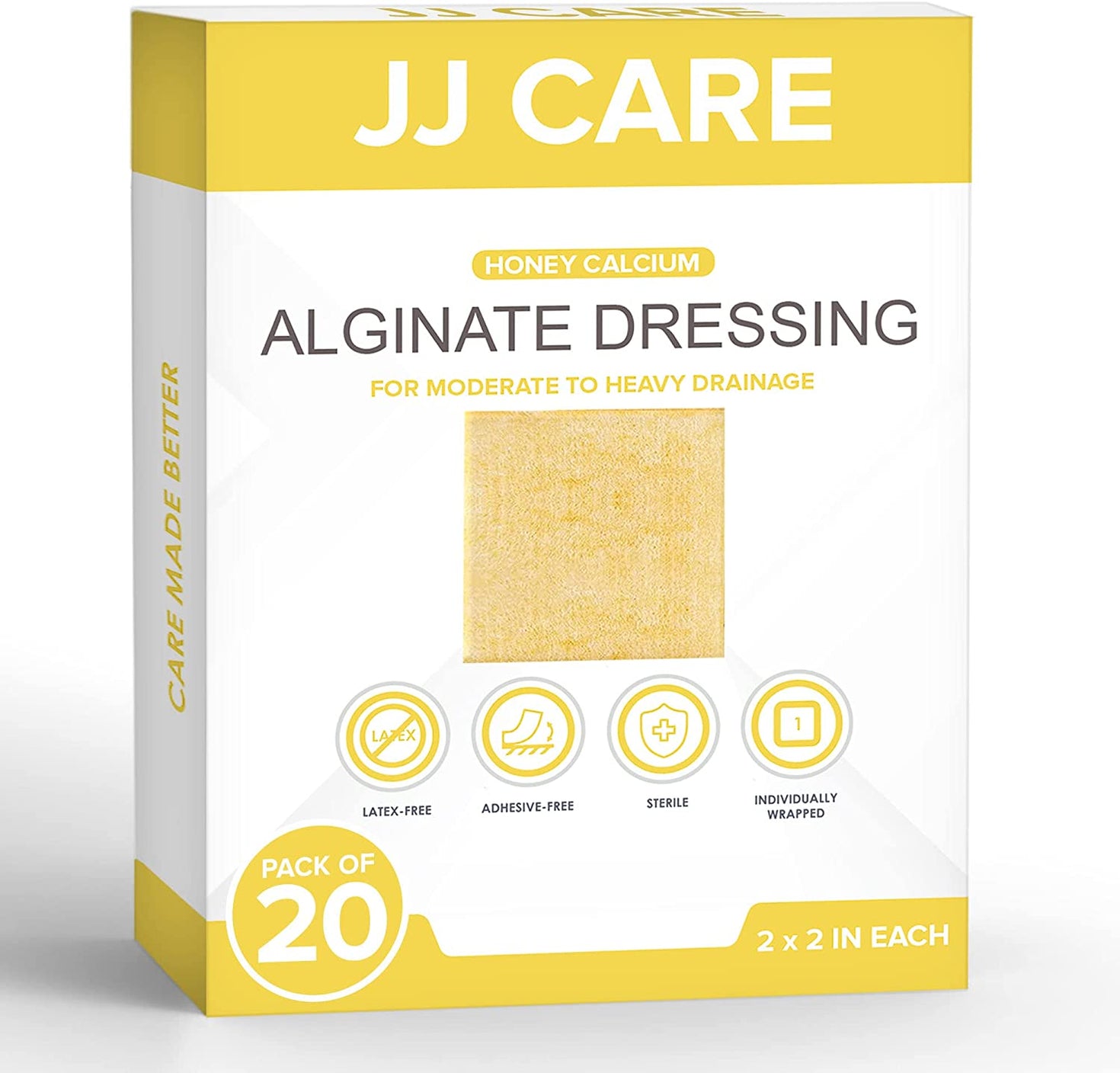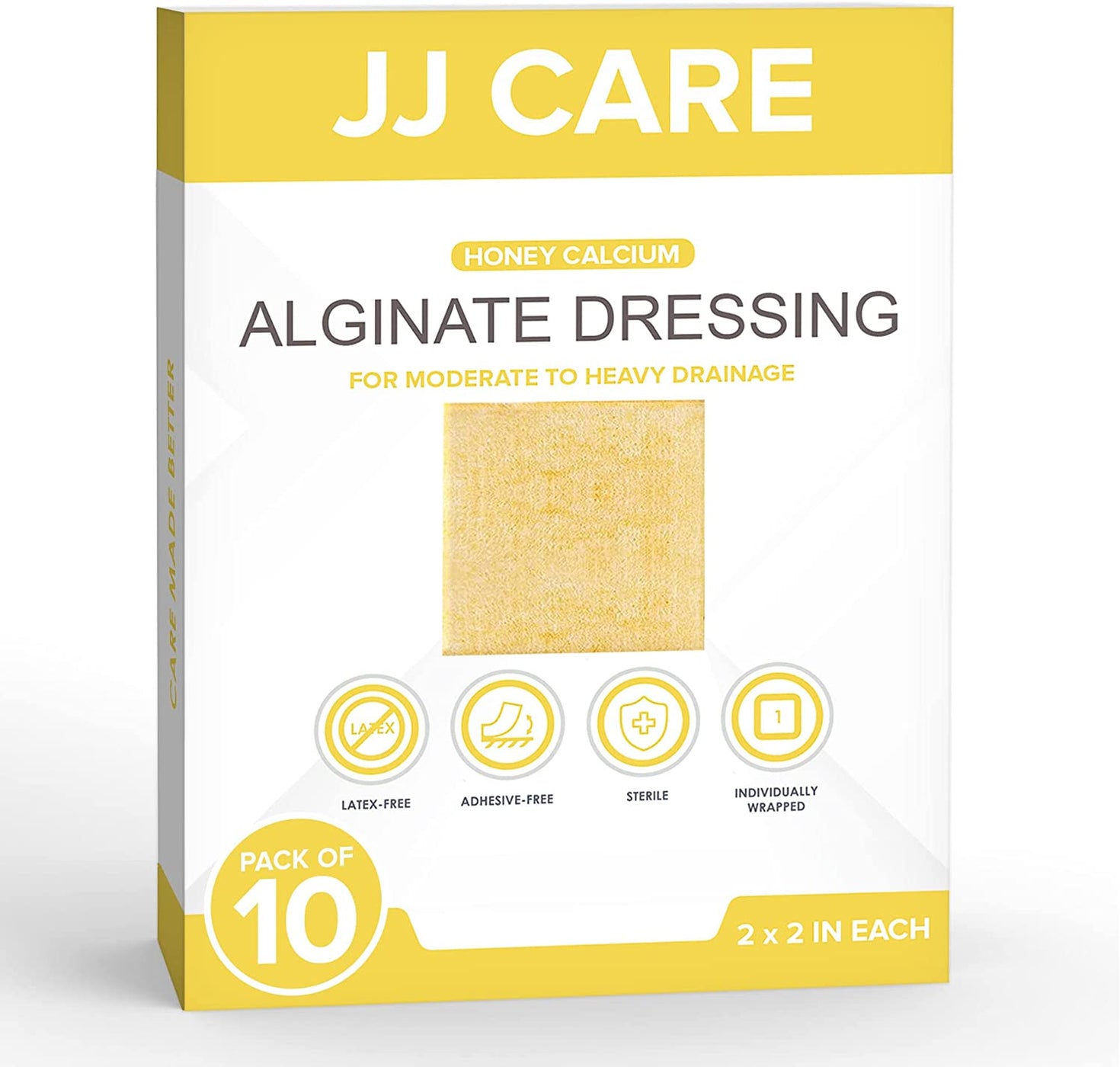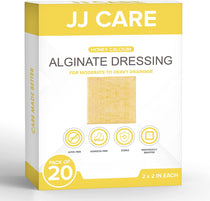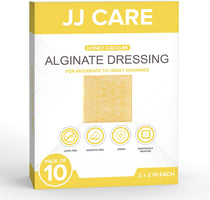 PRODUCT INFORMATION
CUSTOMER REVIEWS
PRODUCT INFORMATION
✅ QUALITY WOUND CARE - Experience the best in wound healing with JJ Care's Honey Calcium Alginate Dressing. These high-quality bandages contain Honey and Calcium Alginate in gel form to facilitate better and faster healing. This type of dressing is recommended for moderate to highly exuding wounds and burns. Each wound care pad measures 2" x 2" with 330g/m2 thickness.

✅ HELPS IN ADVANCED HEALING - These wound care pads possess a single side coating of 100% active Honey (medical grade) derived from the Leptospermum scoparium plant found in New Zealand. It also contains Calcium Alginate, a natural ingredient that comes from seaweed which gives the dressing high absorbency properties.

✅ EASY TO APPLY AND REMOVE - After cleansing wound with a sterile saline solution, pat dry the skin that surrounds the wound and apply the dressing. Place another layer of dressing with adhesive to hold everything in place. Change as recommended. It does not stick to the wound resulting in painless dressing changes.

✅ RELIABLE WOUND PROTECTION - The honey calcium alginate dressing also protects the wound from contamination during healing. Leaving a wound uncovered may make it more susceptible to impurities and further damage. Make sure to apply another self-adhesive bandage on top to secure the dressing.

✅ OPTIMAL HEALING ENVIRONMENT - The Honey Calcium Alginate Dressing helps in healing and provides protection. Moist wound healing is the proper way to accelerate the healing of tissues and regeneration of cells. This process not only prevents and minimizes scabs and scars but also keeps in place the proteins necessary for wound repair. Drying out a wound in open air slows down healing and makes it susceptible to impurities.
CUSTOMER REVIEWS
SHIPPING
Free shipping for all orders $40 up that includes eligible items from any product category.
---
PAYMENTS
Accepts the following payment methods:
Credit Card: Visa, MasterCard, Maestro, American Express. The total will be charged to your card when the order is shipped.
PayPal: Shop easily online without having to enter your credit card details on the website.
---
RETURN POLICY
You can return any item purchased on JJ CARE within 30 days from the date of your purchase.