JJ CARE Dental Bibs 13" x 18" (Pack of 125, 250, and 500) - PINK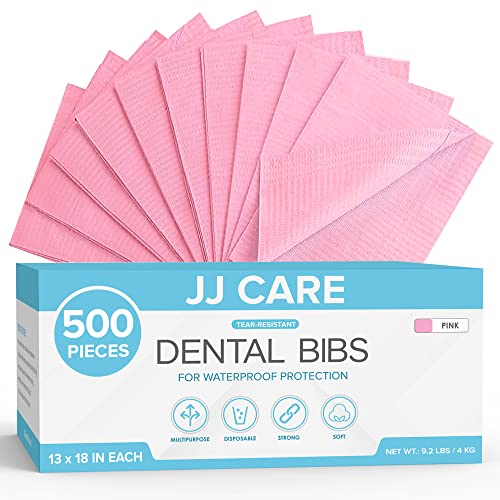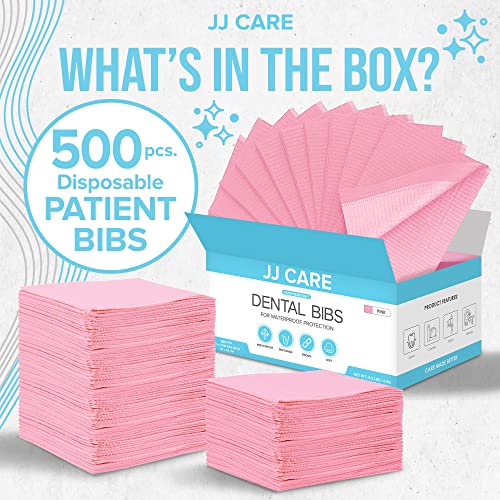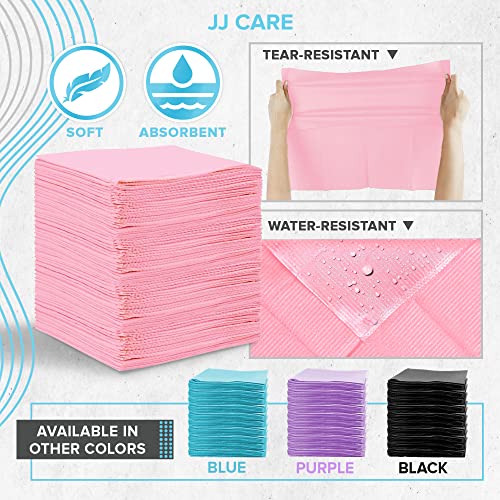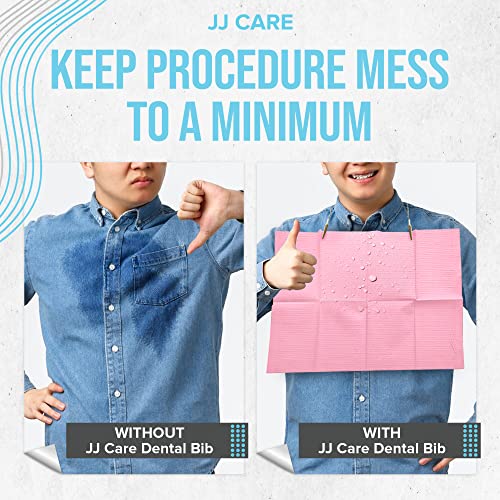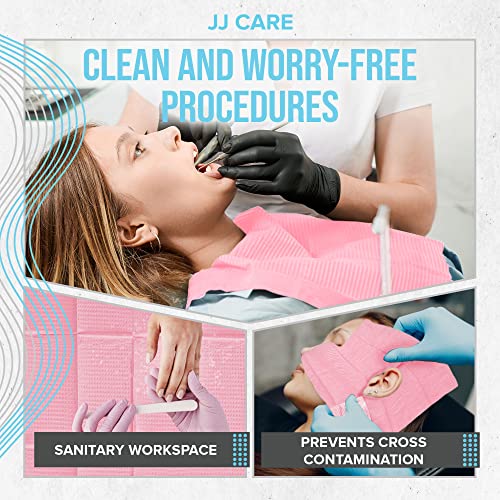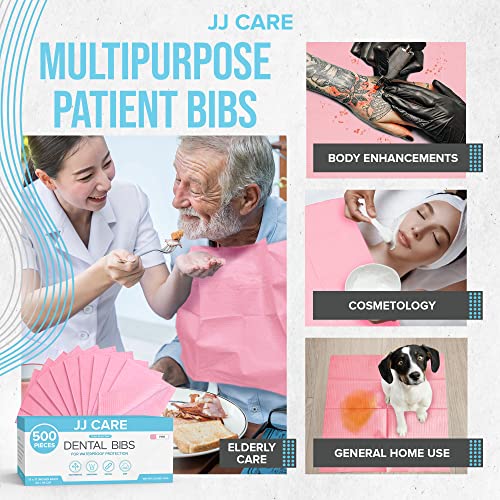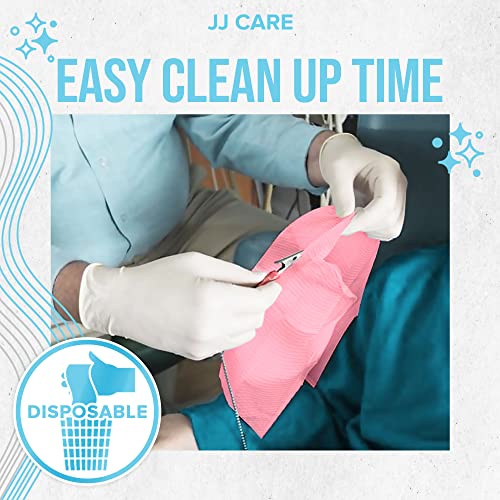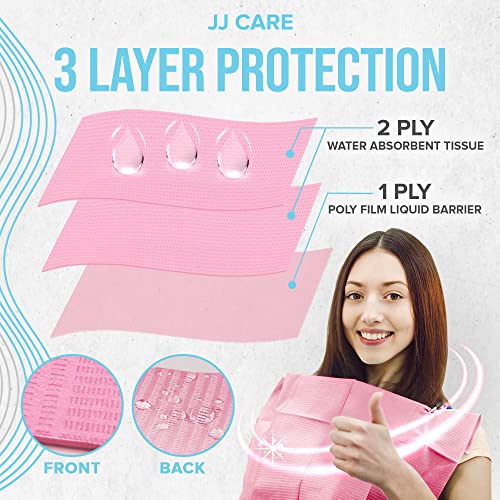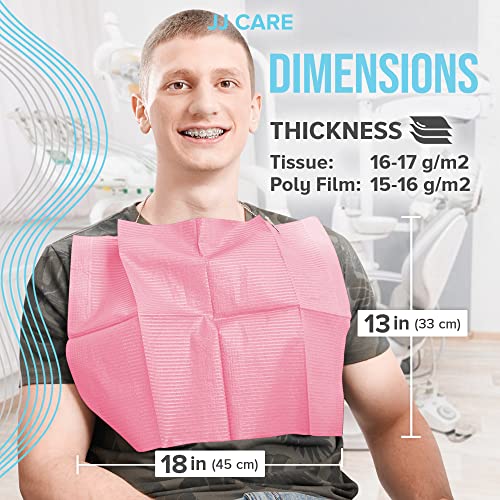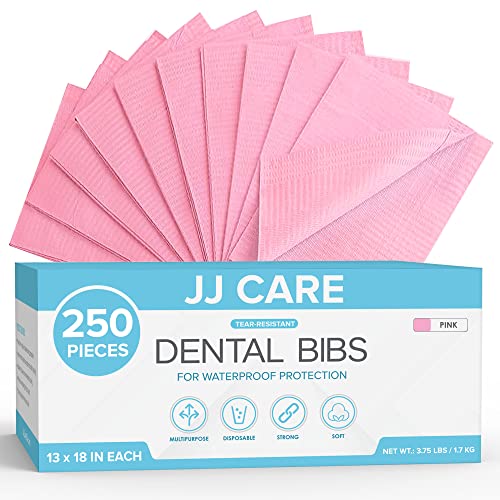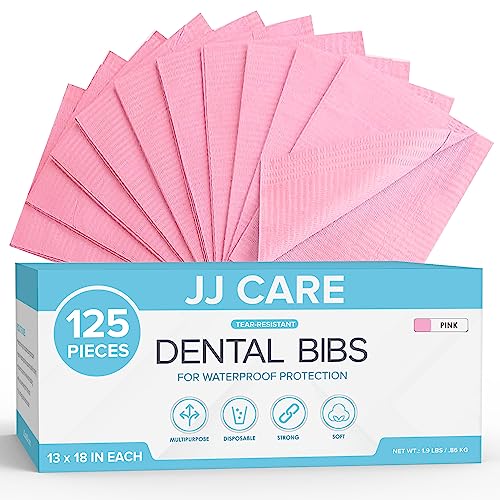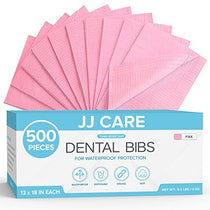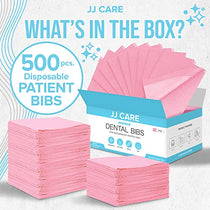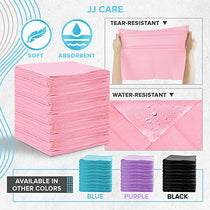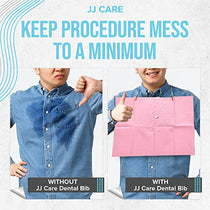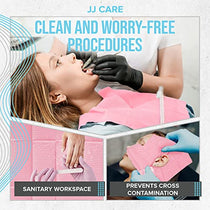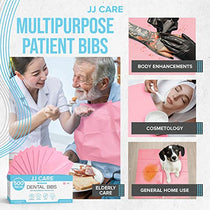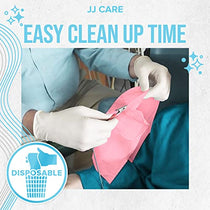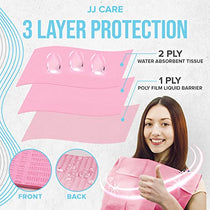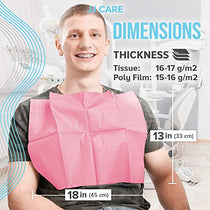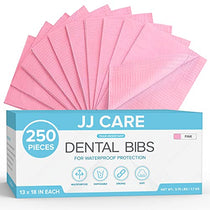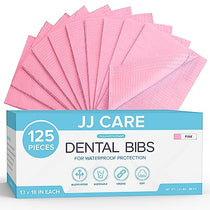 PRODUCT INFORMATION
CUSTOMER REVIEWS
PRODUCT INFORMATION
JJ CARE Disposable Dental Bibs Pack of 125, 250, and 500, 13"x18" Pink Dental Bibs, 3-Ply Waterproof Tattoo Bibs for Tattoo Table, Salon Tray, Dental Tray Covers, Medical Mayo Stand Dental Bib, Functional Dental Towels, 3 Ply Adult Bibs Purple, Table Towels for Nails, High Absorbency Dental Napkin, Disposable Tray Liners for Tatoo Tray, Dental Tray, Medical Tray, Surgical Tray, Mayo Stand, Changing Table Paper

✅ FUNCTIONAL DENTAL BIBS - A visit to the dentist would not be complete without one wearing a dentist bibs. JJ Care's durable dental bibs disposable fit any type of dental bib clips and act as a barrier of protection against spills and splashes that may be contaminated during a procedure. These disposable dental bibs sheets prevent such particles from coming in contact with a patient's or client's clothing and skin making it a must-have dental supplies.
✅ 3 PLY DISPOSABLE DENTAL BIBS - Each 13"x18" dental bib has 2-layer of medical grade dentist bibs and a layer of strong polyfilm in 5 colors: white, black, pink, blue, and purple! This patient bibs feel soft to the touch yet strong & tear-resistant. The comfortable texture of medical bibs is perfect to wipe a patient's skin. These are great as tattoo bibs and table towels for nails too!
✅ HIGH ABSORBENCY DENTAL NAPKINS - Our dental bibs make cleanups easier & less messy. These dental napkins feature a surface embossing that traps liquid spills preventing transfer to clothing or skin, making it also a great disposable tray liner for tattoo tray, dental tray, medical tray, surgical tray, mayo stand, salon tray, & changing table paper.
✅ WATER RESISTANT LAYER - Its poly film backing keeps liquid & moisture from escaping & contaminating surfaces. A great nail paper towels for acrylic, an addition to tattoo supplies, or as dental tray covers. A microblading esthetician or tattoo artist may find work easier when using the dental bib as it effectively soaks up excess ink. Nail tech must-haves when blotting nail polish, also a great addition to lash and microblading supplies.
✅ ALL-AROUND USE - JJ CARE dental bibs disposable are a great addition to professional dental supplies, esthetician supplies professional, lash supplies, nail tech supplies, piercing & tattoo supplies, and any medical-related services. These disposable dental bibs can also be used to line trays and cases that hold tools and as a cover for them. Dental bibs can be put over pillows, chairs, and any equipment for patient or client use to keep them sterile and reduce cleaning time.
SHIPPING
Free shipping for all orders $40 up that includes eligible items from any product category.
---
PAYMENTS
Accepts the following payment methods:
Credit Card: Visa, MasterCard, Maestro, American Express. The total will be charged to your card when the order is shipped.
PayPal: Shop easily online without having to enter your credit card details on the website.
---
RETURN POLICY
You can return any item purchased on JJ CARE within 30 days from the date of your purchase.