JJ CARE Premium Wood Carving Kit [Includes 10 Basswood Carving Block + 8 SK7 Whittling Knife Set + 1 Grinding Stone] - Whittling Kit for Beginners for Kids & Adults - Widdle Wood Kit Gift Set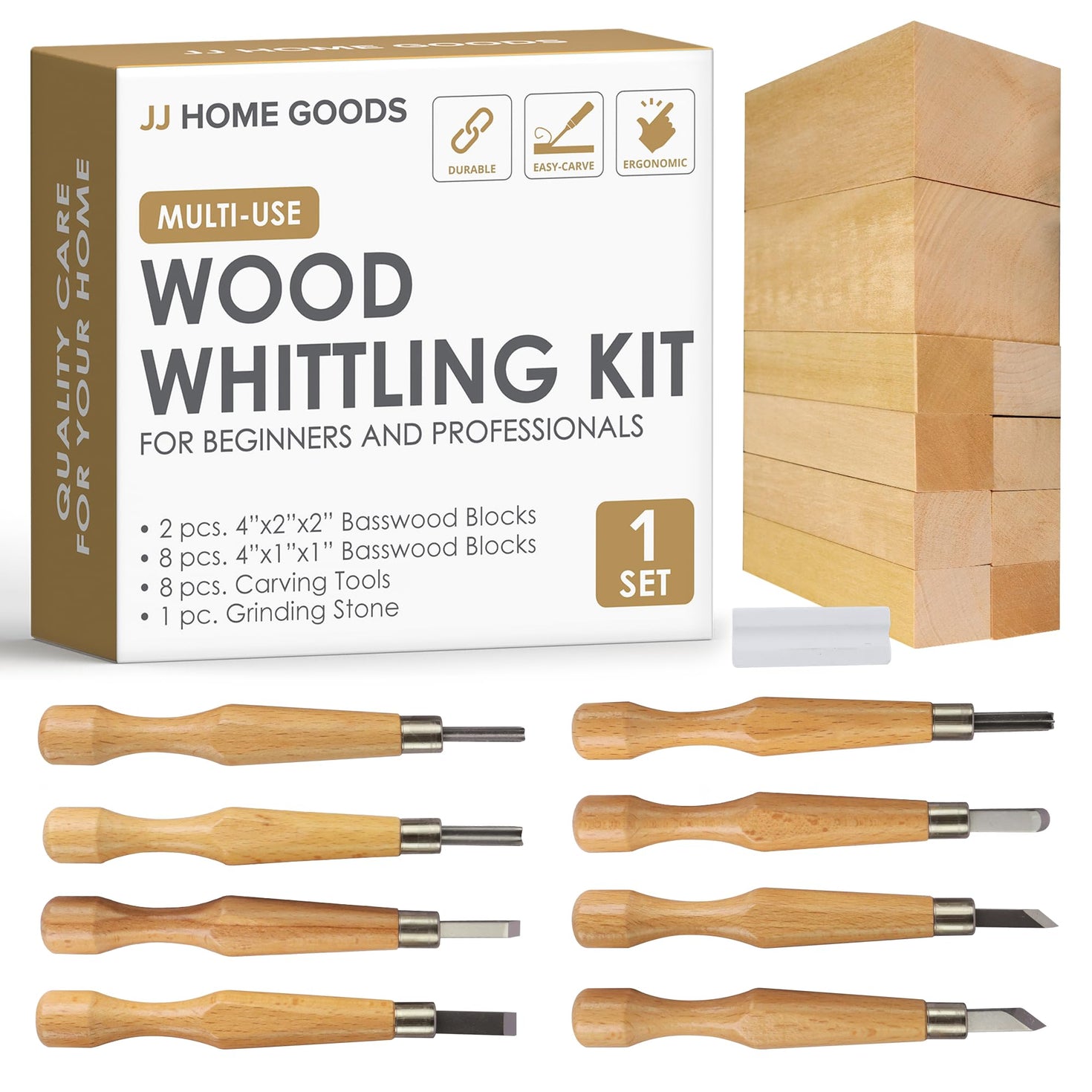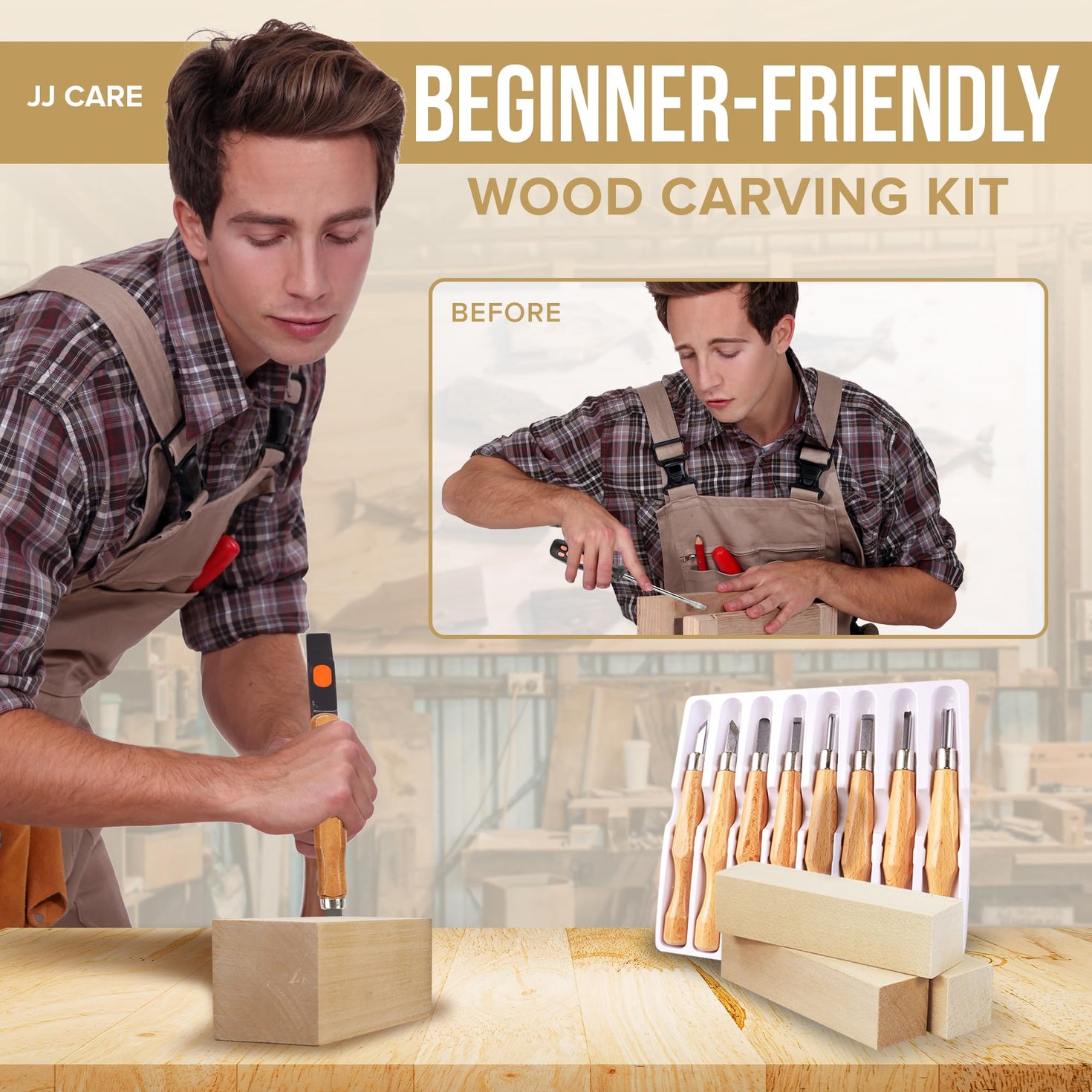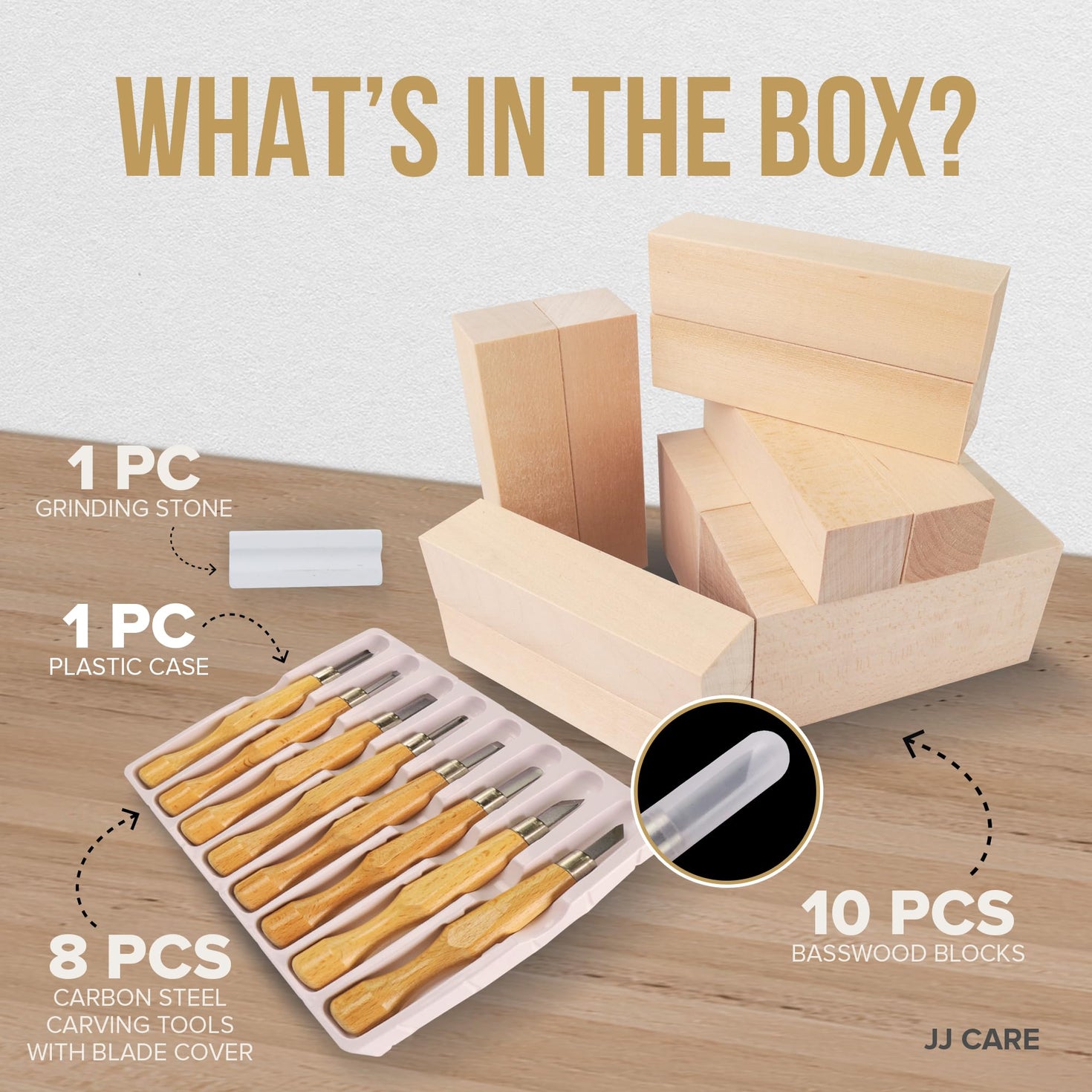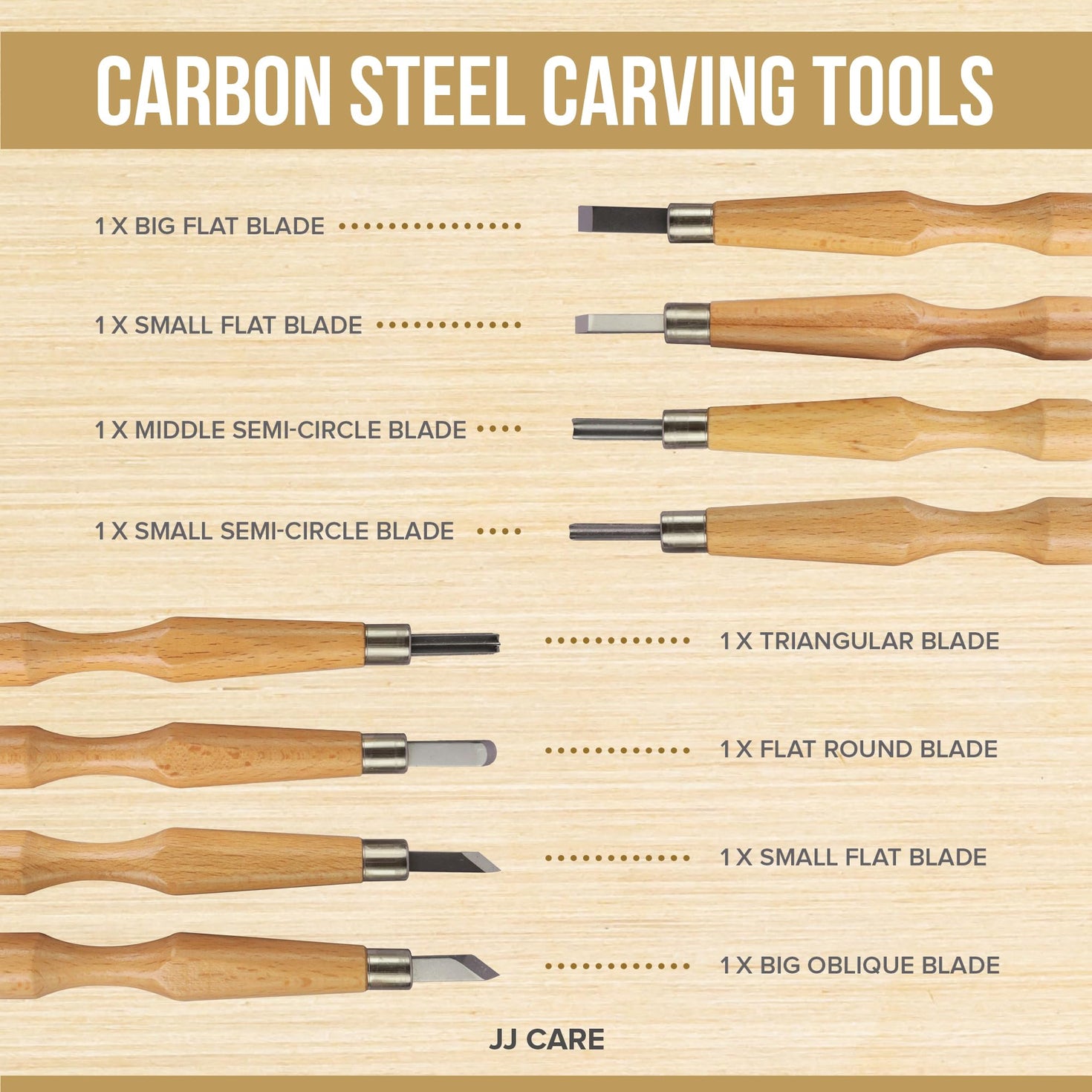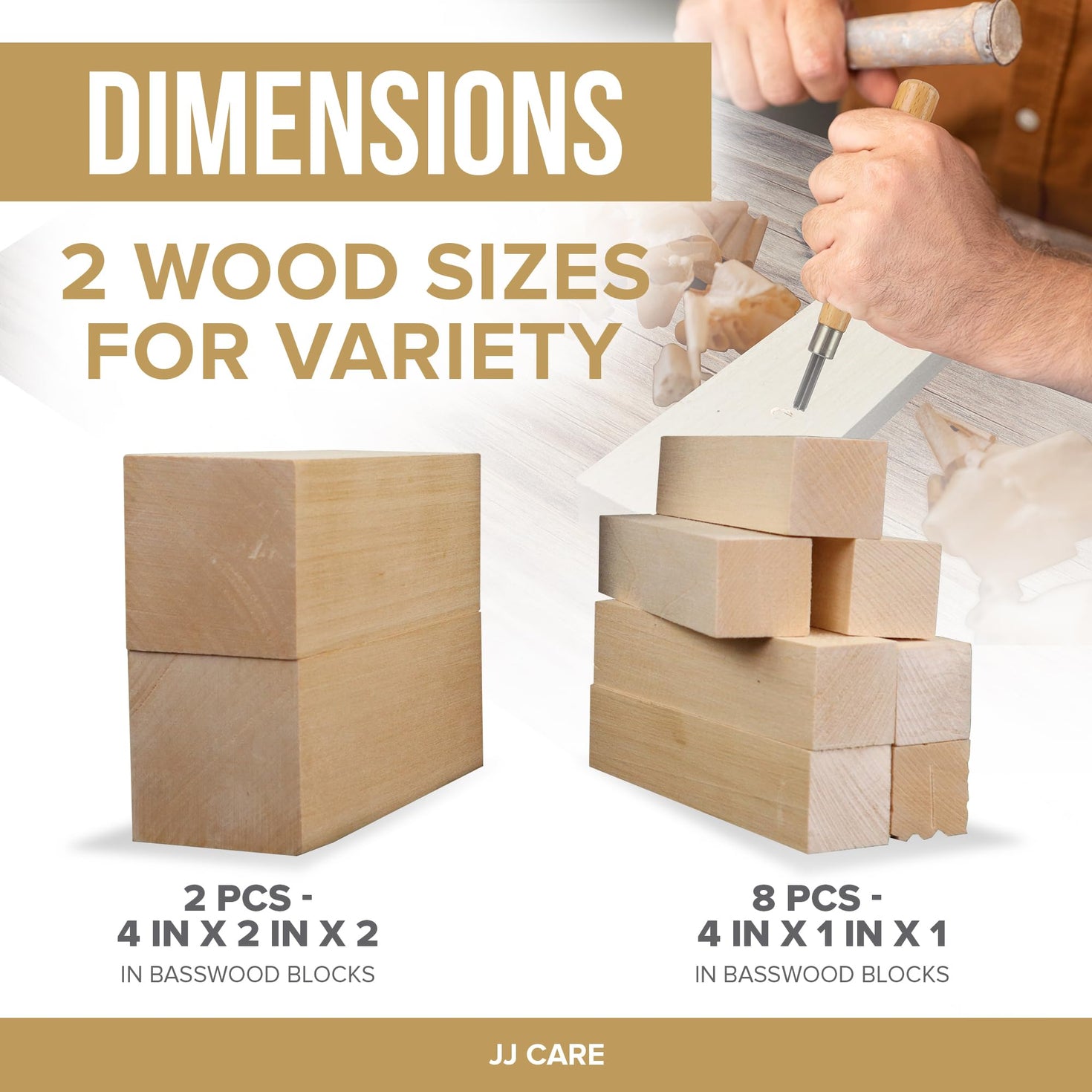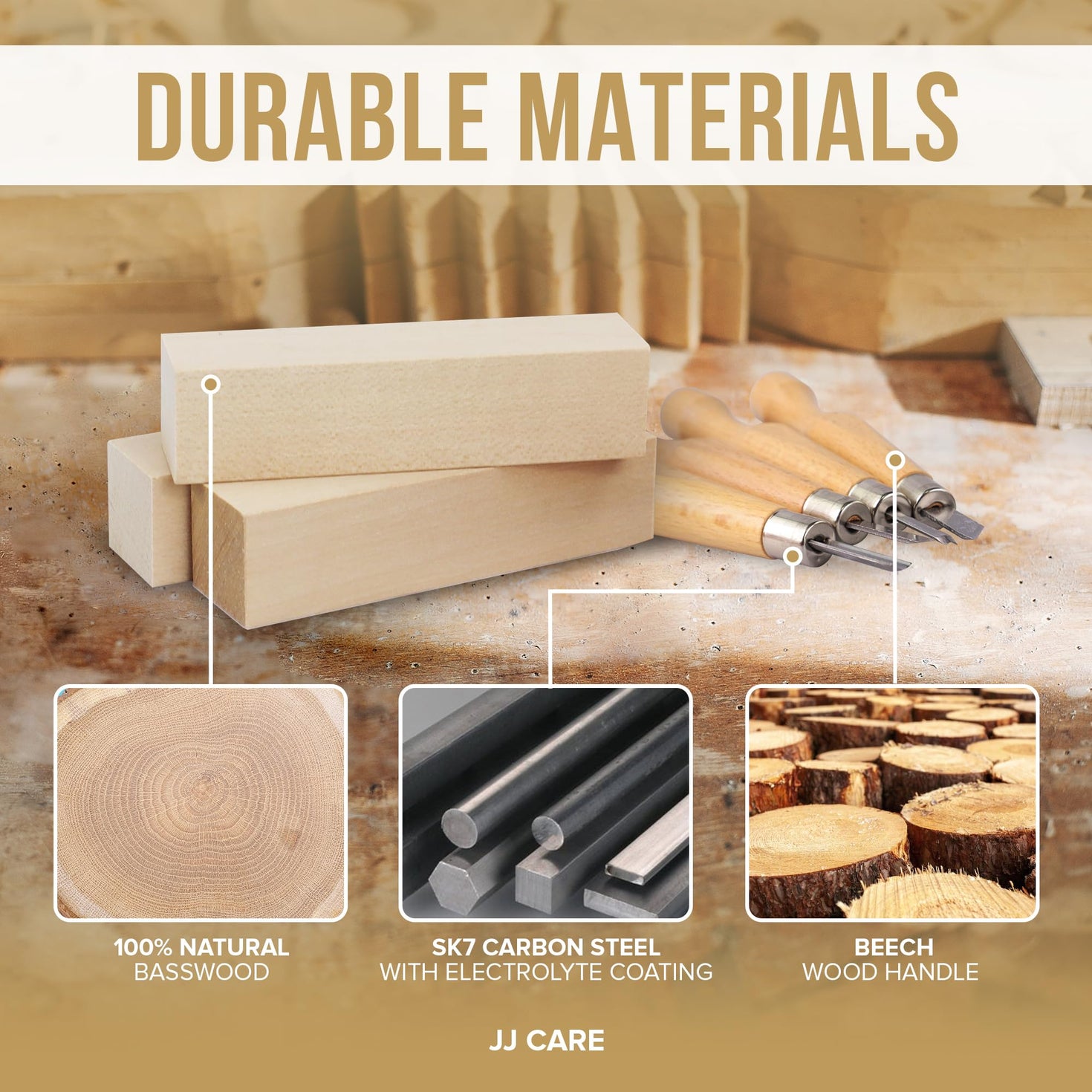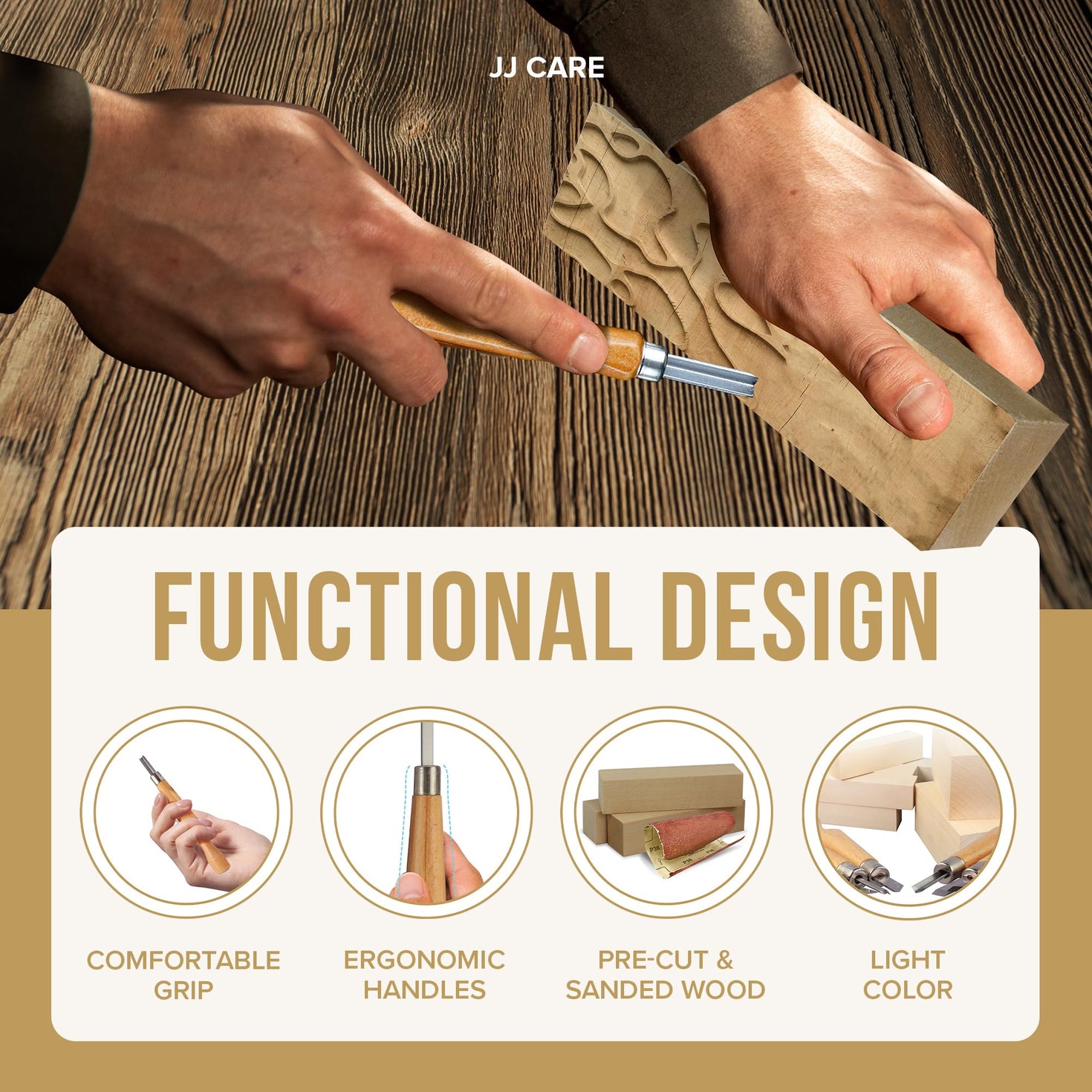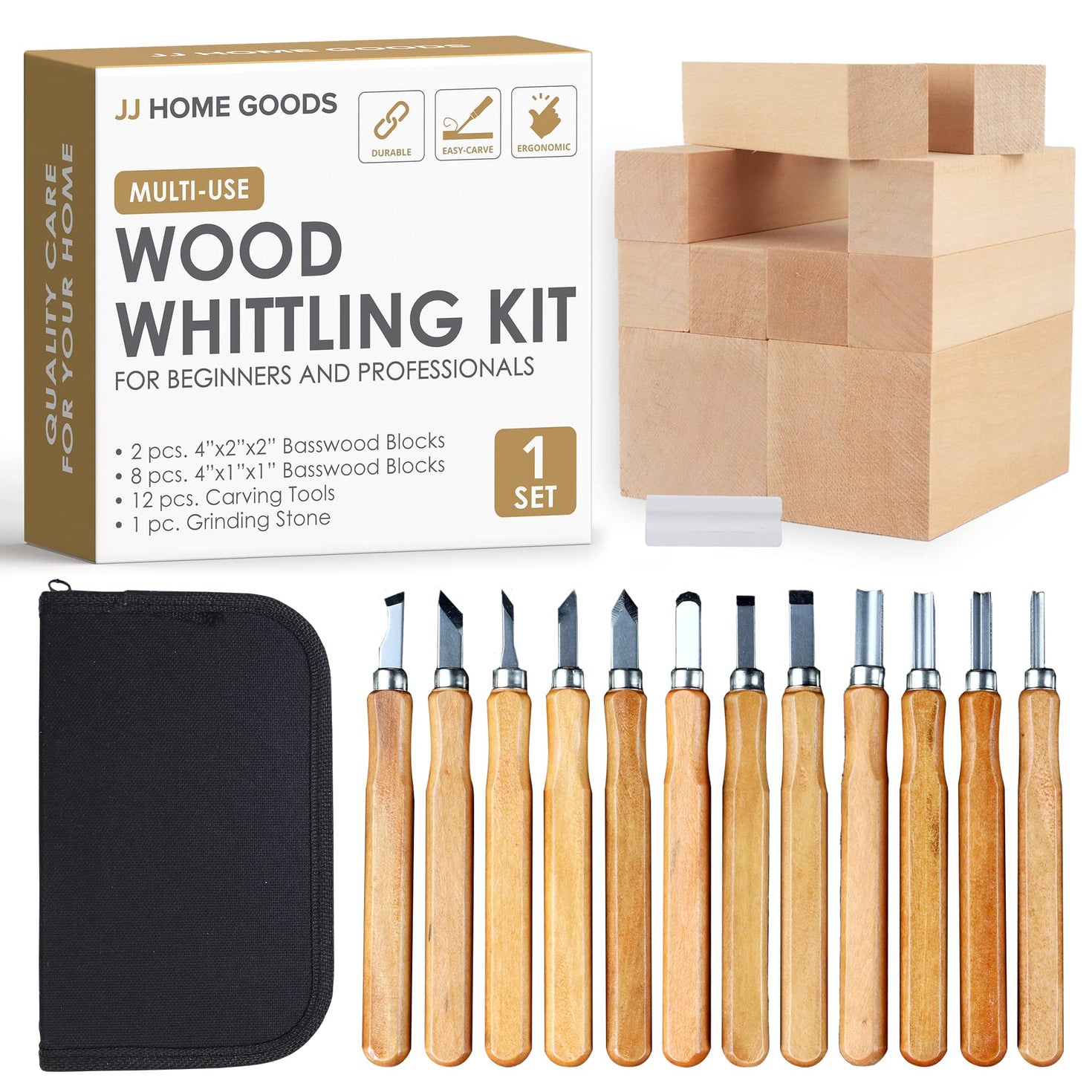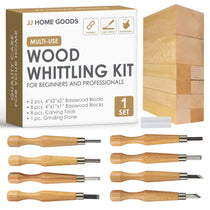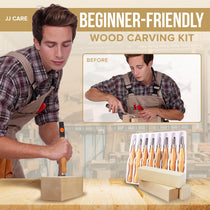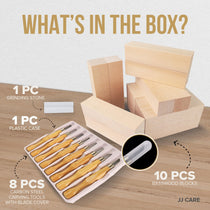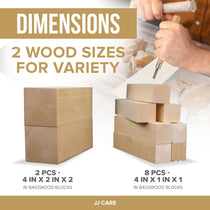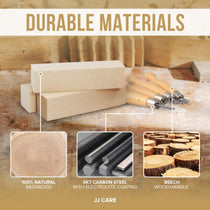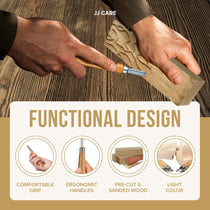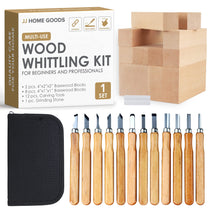 PRODUCT INFORMATION
CUSTOMER REVIEWS
PRODUCT INFORMATION
[Premium] Wood Carving Set - Beginner Whittling Kit for Kids and Adults - Woodcarving Kit 10 Basswood Carving Blocks + 8 Pc SK7 Carbon Steel Hand Tools - Wood Whittling Kit - Wood Carving Kit for Kids - Kids Wood Carving - Widdling Kit for Beginners - Whittling Kits
✅ COMPLETE CARVING SET - Everything you need to start your wood carving is here! With each order of JJ CARE Wood Carving Kit, you get 10 premium basswood blocks, 8 pieces of carbon steel carving tools and 1 grinding stone. This is the only kit that you'll need for your wood project, soap carving, vegetable and fruit carving or for those pumpkins on your next Halloween decoration.
✅ 10 PREMIUM QUALITY BASSWOOD CARVING BLOCKS - Basswood has been used for decades by wood carvers because of their soft and smooth texture. Plus, we have more wood blocks for you! Included in your wittling set are the two most popular wood blocks sizes- two large wood blocks measuring 4"x2"x2" and eight smaller blocks measuring 4"x1"x1". Total of 10 blocks!
✅ 8 PIECES SK7 CARBON STEEL HAND CARVING TOOLS WITH ELECTROLYTE COATING - Our wood carving tools are guaranteed sharp and durable because they are made of SK7 carbon steel and coated with electrolyte. The handles are made of beechwood and have an ergonomic design, making sure that you're comfortable even when you carve for hours. JJ CARE Hand Carving tools will help you carve with precision and complete even your most intricate designs.
✅ BEGINNER WHITTLING KIT FOR KIDS & ADULTS - JJ CARE Whittling Kit is a great starter set for kids or beginner's woodcarving hobby, as well as for adults and professionals. These wood blocks are made of high quality soft basswood which has a creamy and soft texture, and the tools are sharp, tough and comfortable to use. We assure you that your next craftwork will be easier and more enjoyable!
✅WONDERFUL GIFT - Whether you give this as a gift to a friend or loved one; from a wood carving hobbyist to another, JJ CARE Wood Carving Set will definitely satisfy your whittling needs. This will also be a great present to a boy scout or cub scout and help them get their whittling chip in no time.
SHIPPING
Free shipping for all orders $40 up that includes eligible items from any product category.
---
PAYMENTS
Accepts the following payment methods:
Credit Card: Visa, MasterCard, Maestro, American Express. The total will be charged to your card when the order is shipped.
PayPal: Shop easily online without having to enter your credit card details on the website.
---
RETURN POLICY
You can return any item purchased on JJ CARE within 30 days from the date of your purchase.