Silicone Foam Dressing, 2x5 Silicone Bandages for Wounds, Absorbent Foam Dressing with Adhesive Border, Medical Bandage with Showerproof Adhesive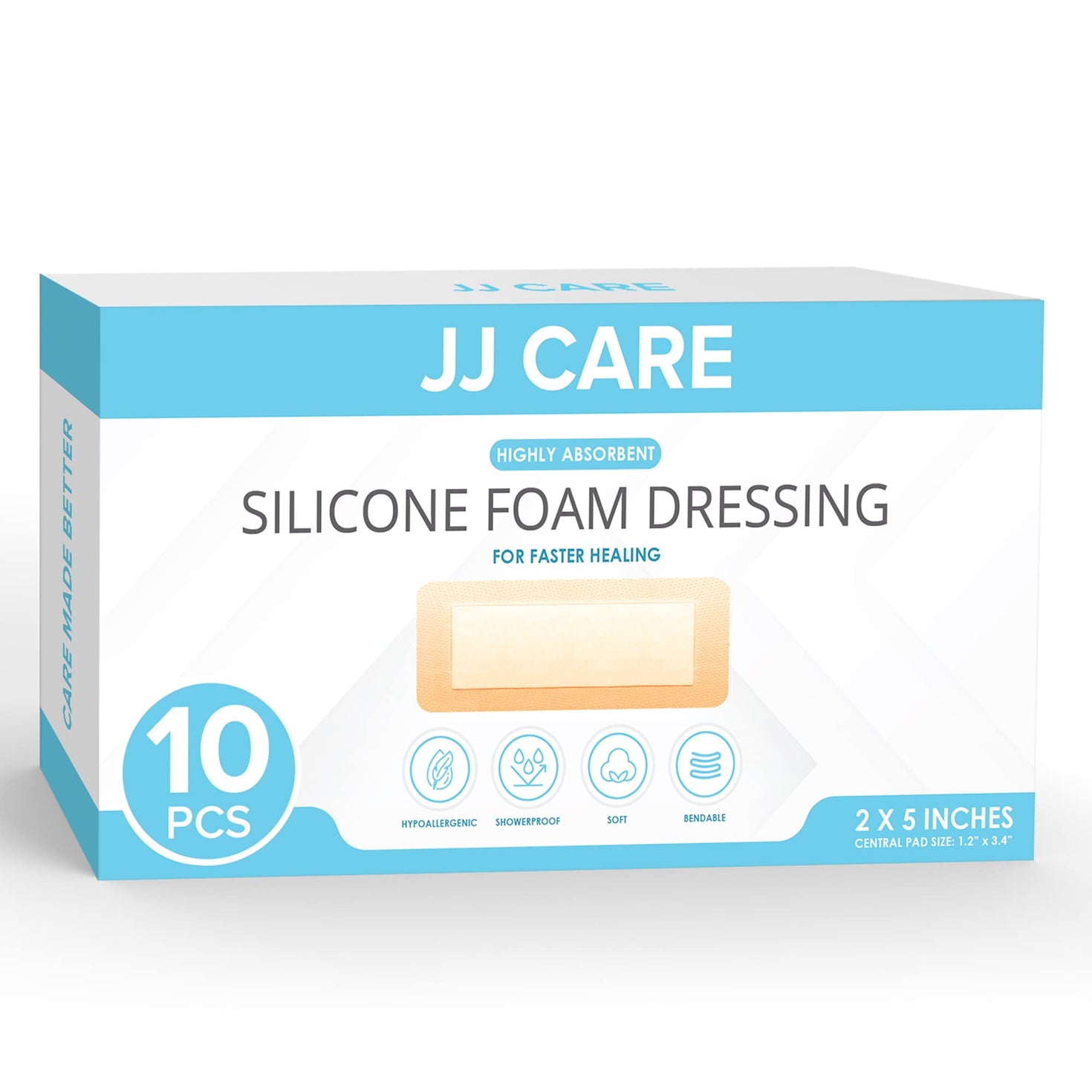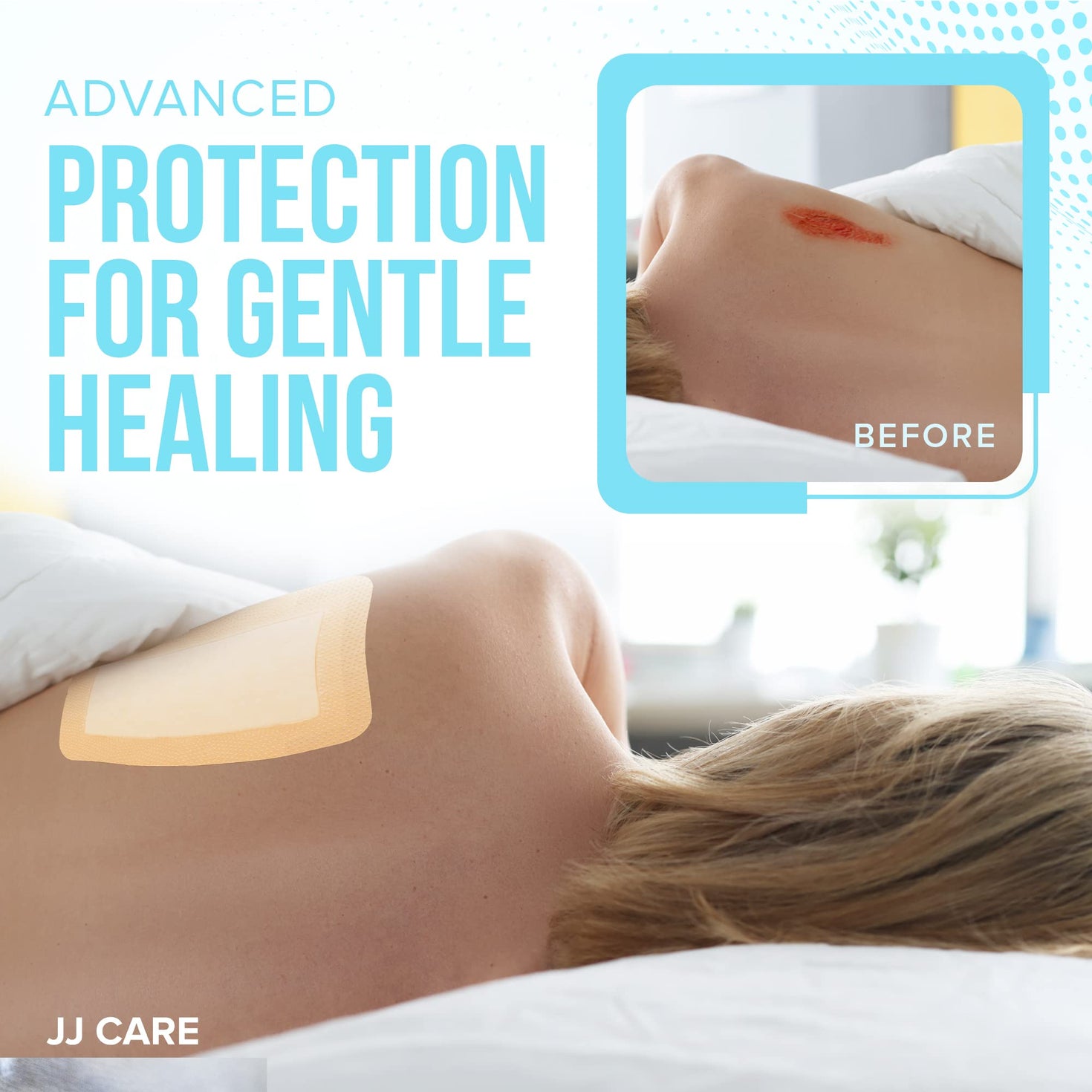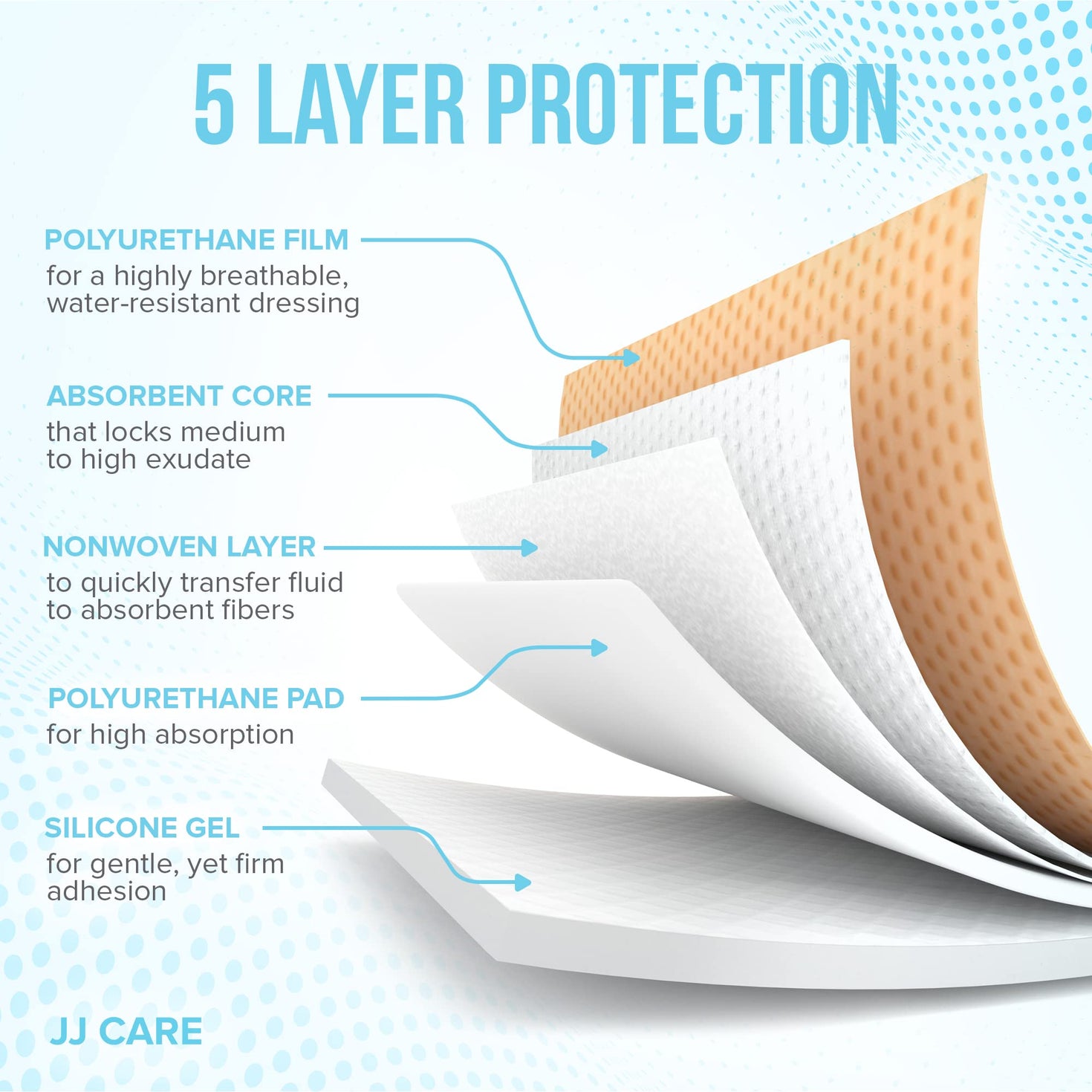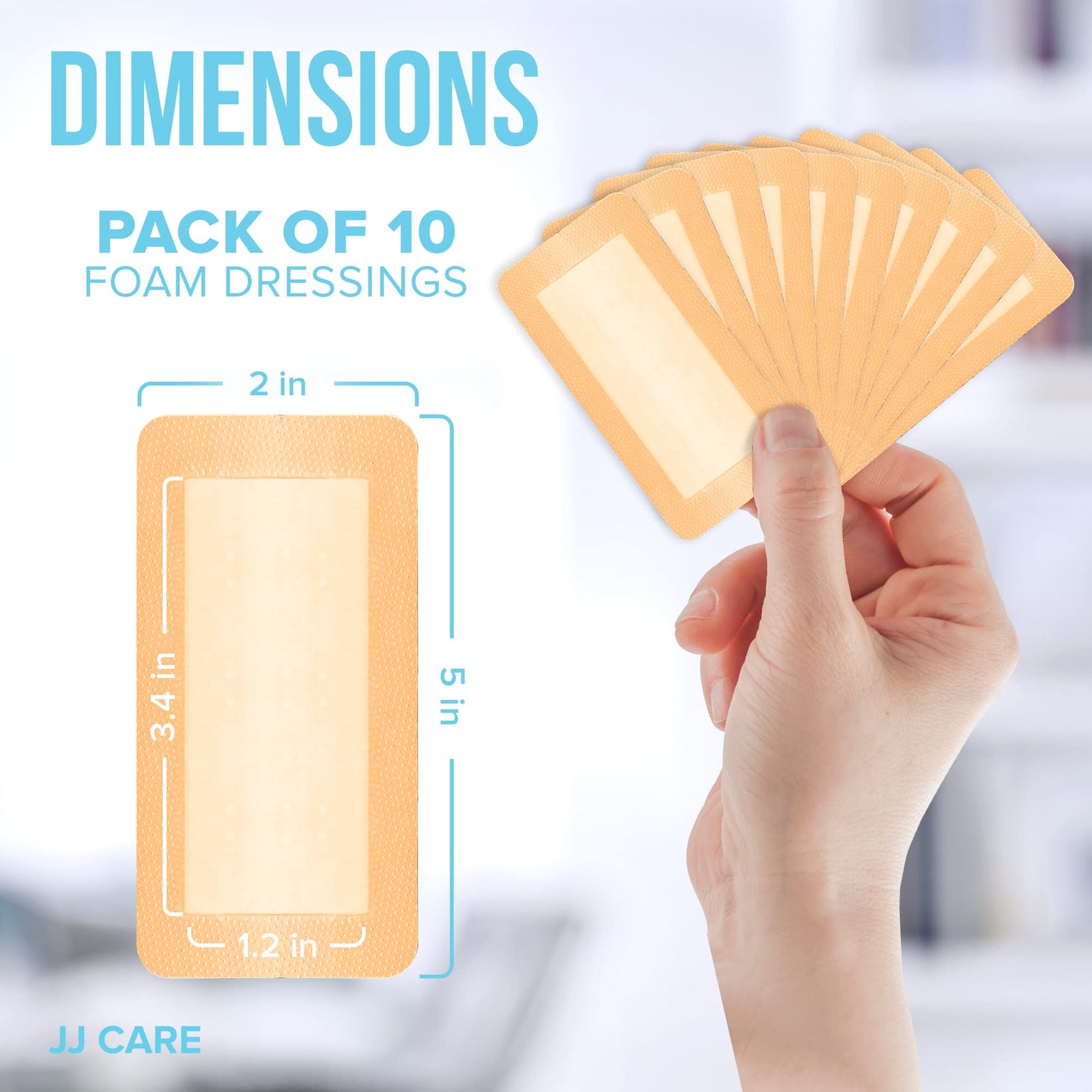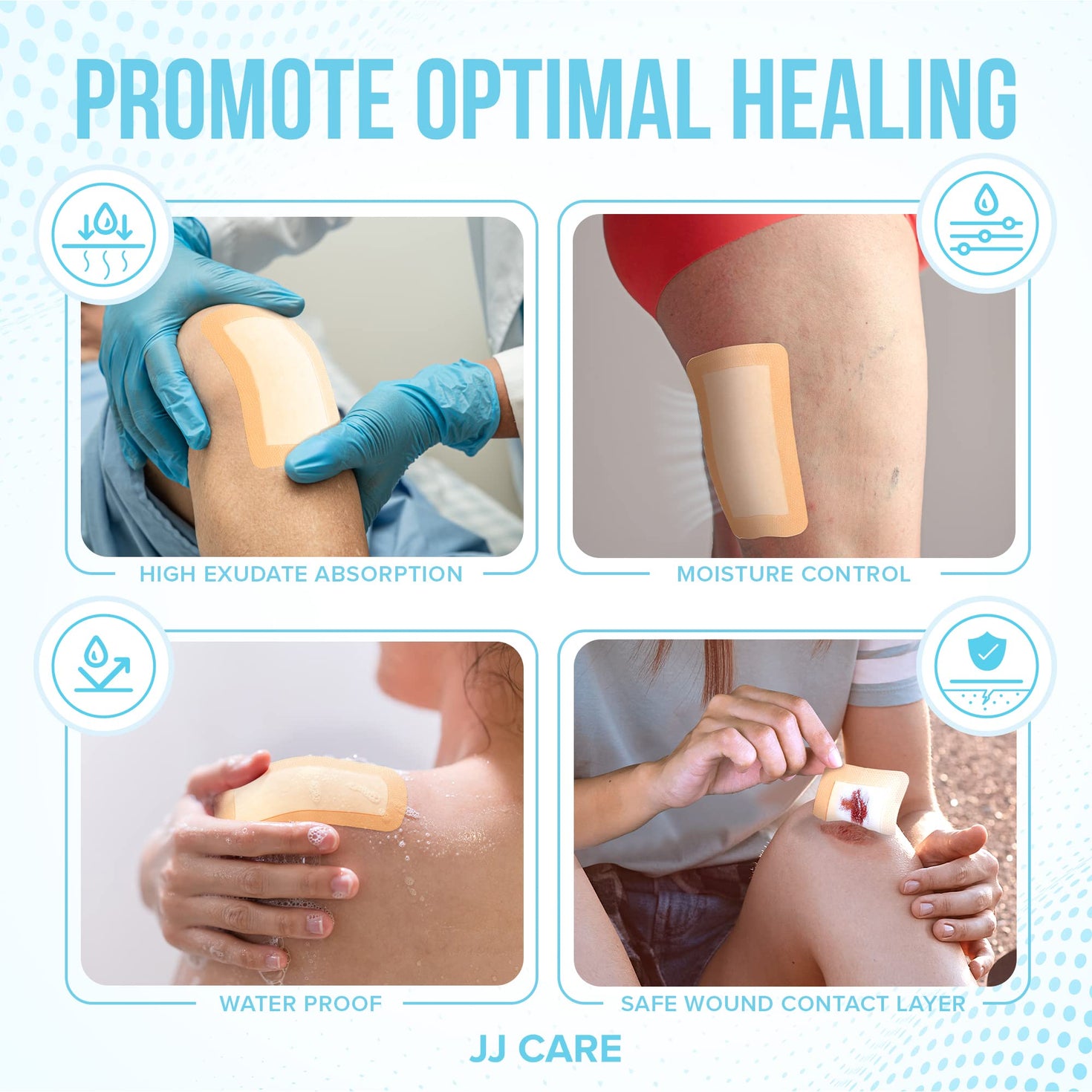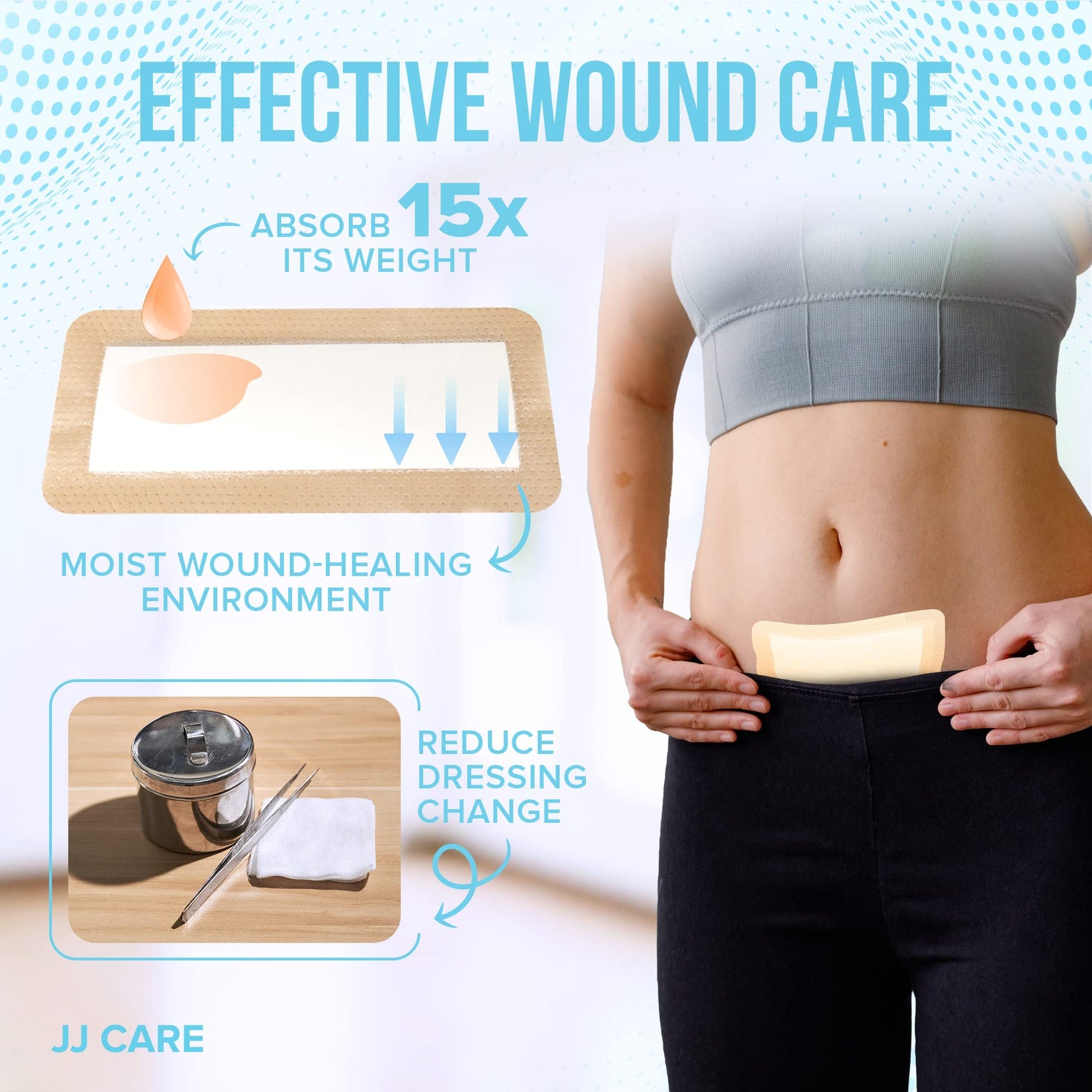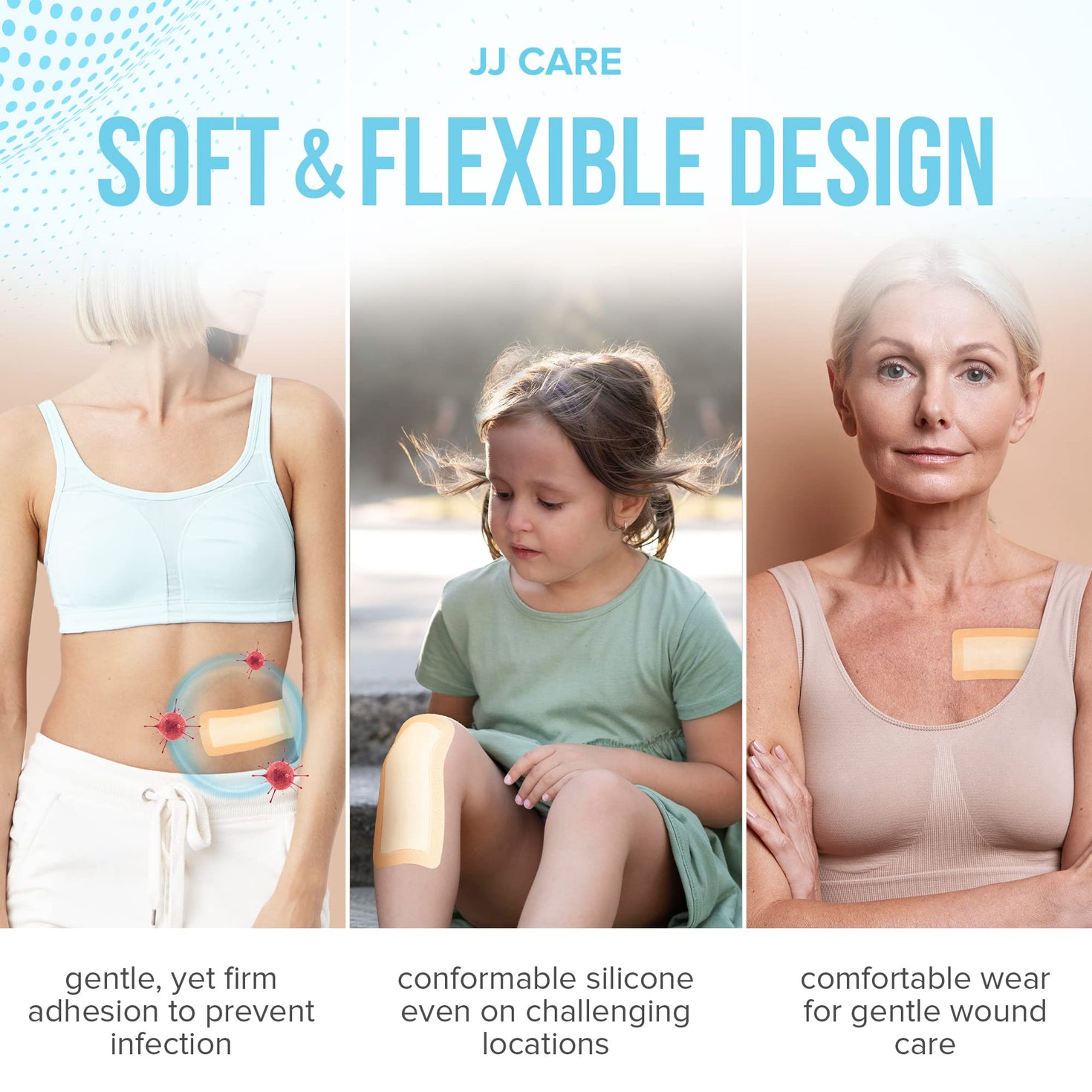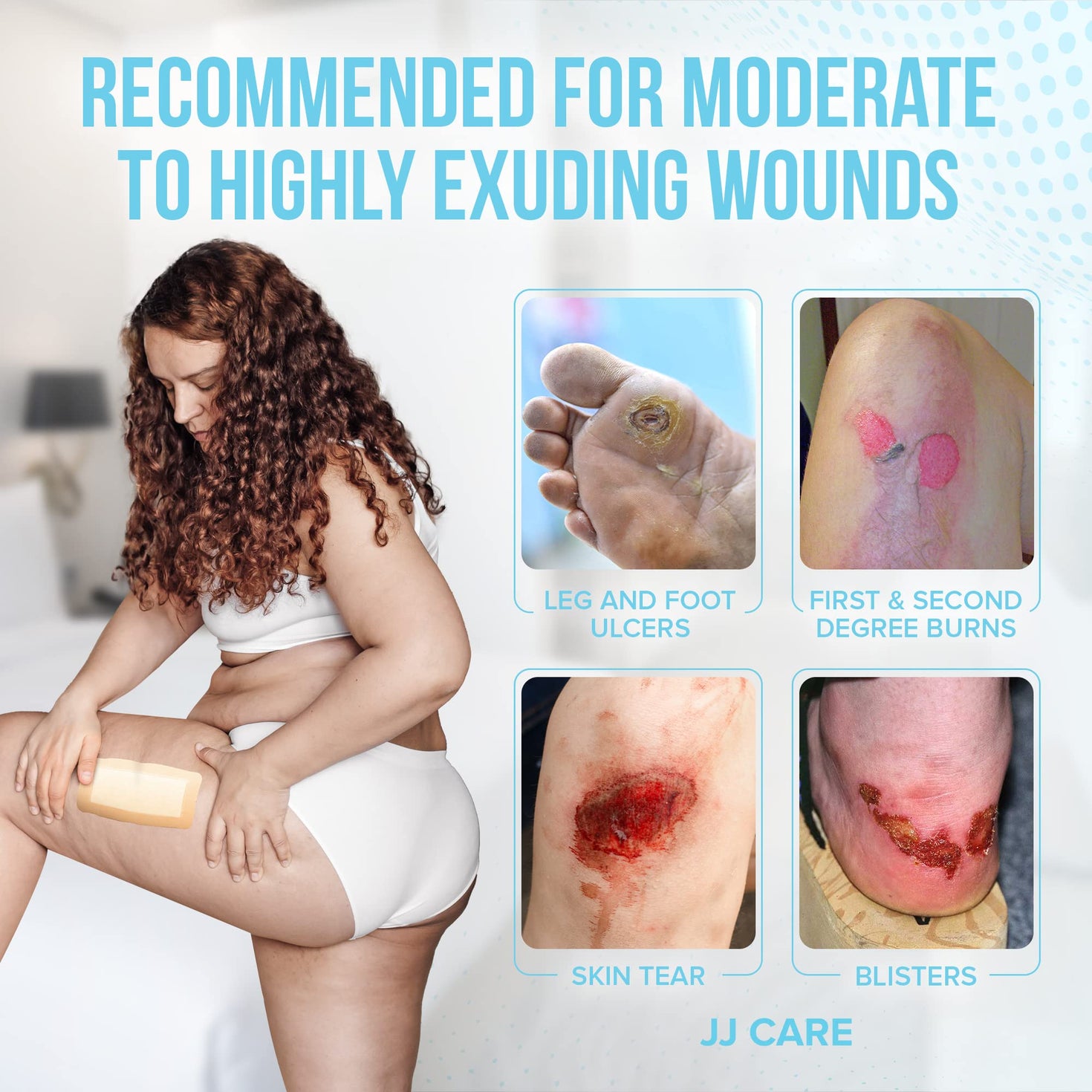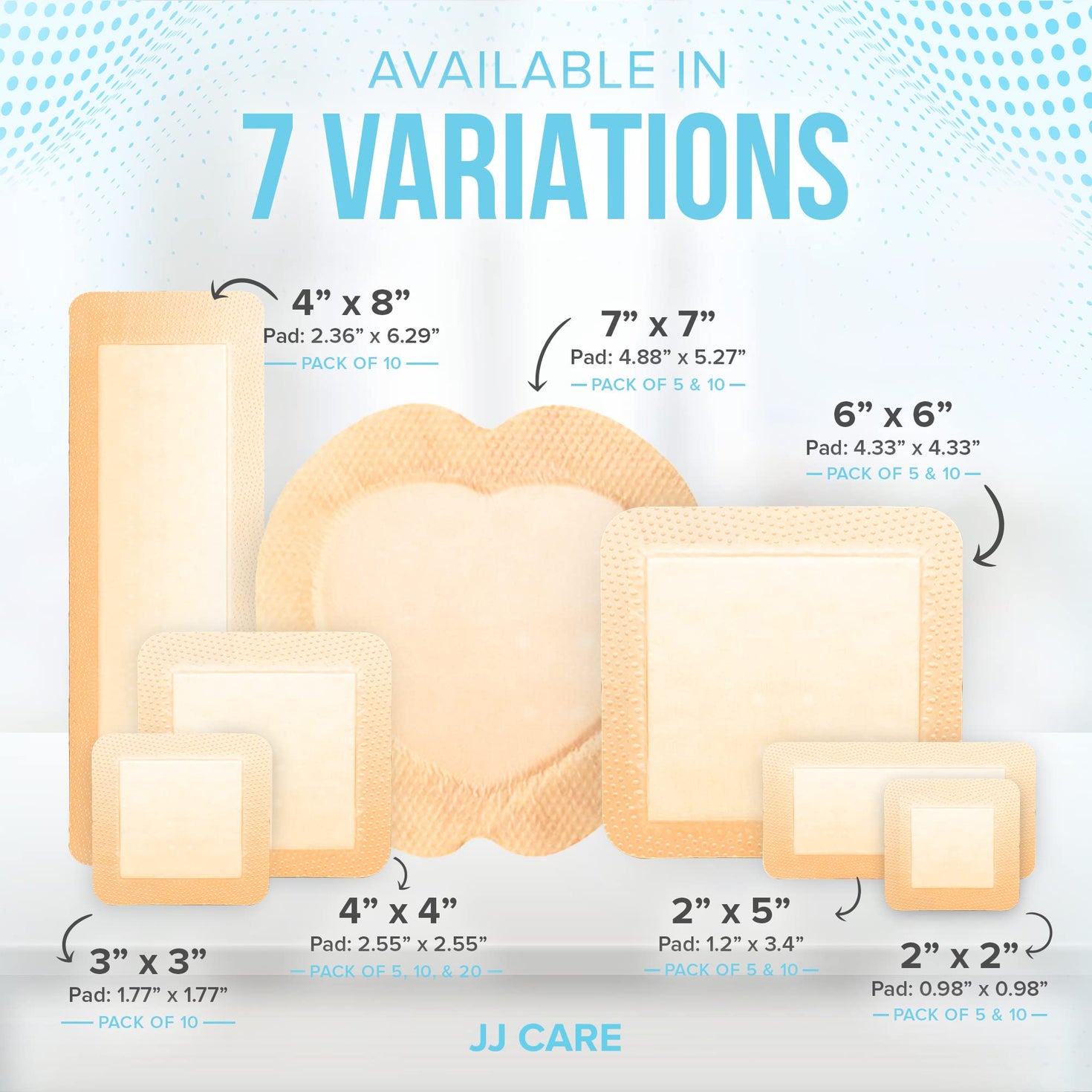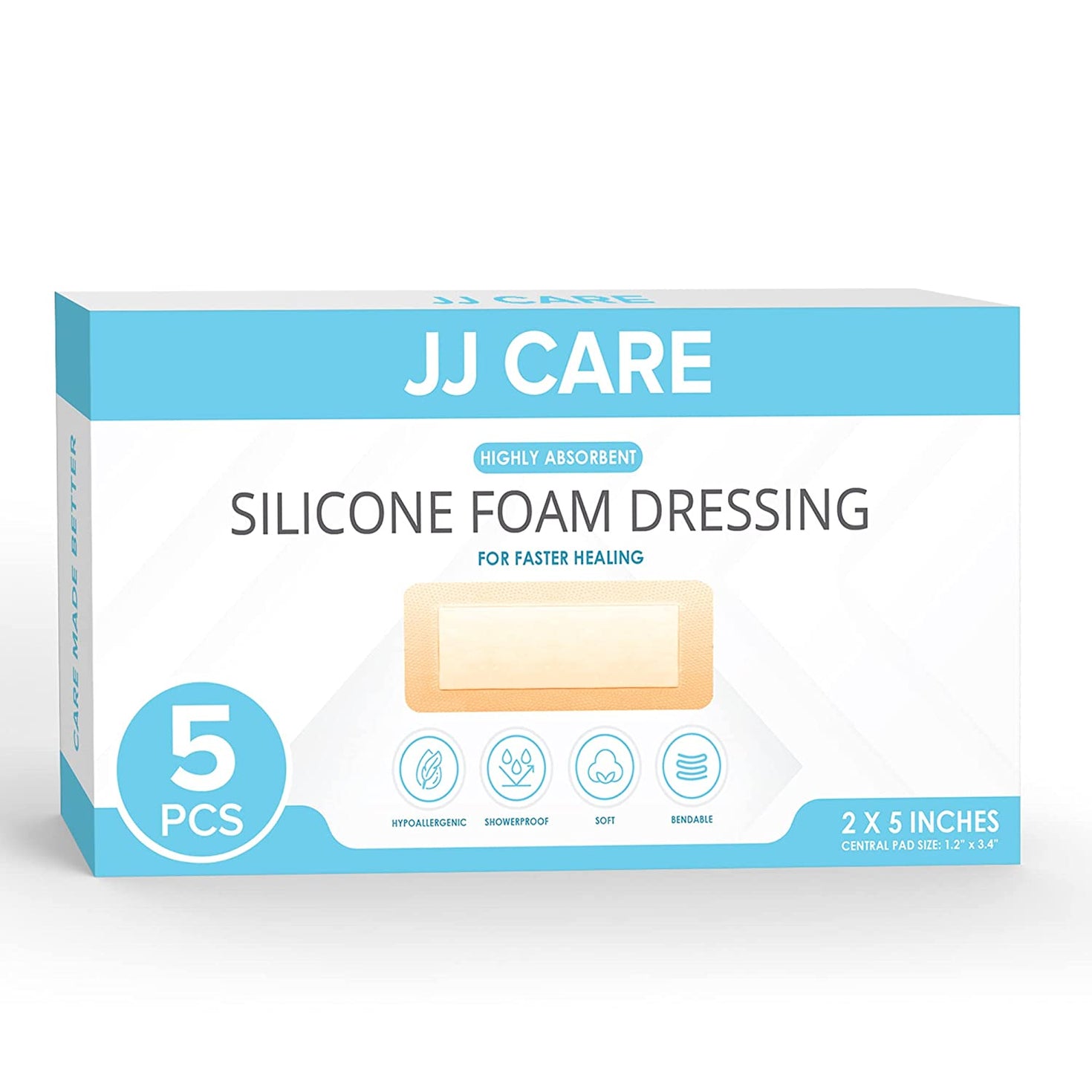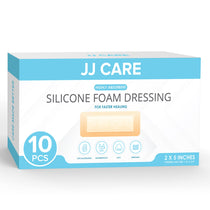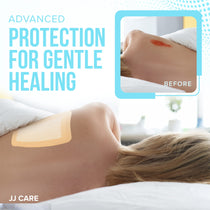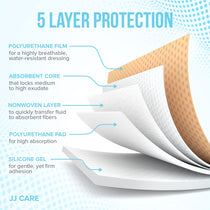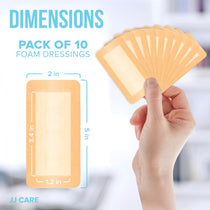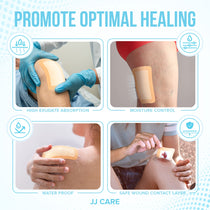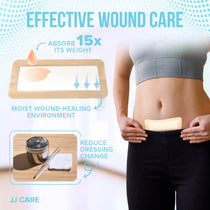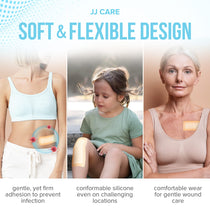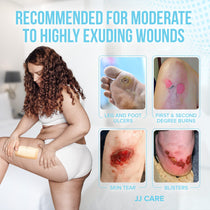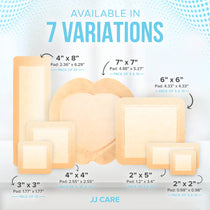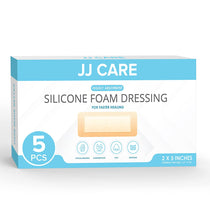 PRODUCT INFORMATION
CUSTOMER REVIEWS
PRODUCT INFORMATION
JJ CARE Silicone Foam Dressing 2x5 inches - Foam Wound Dressing, Bordered Adhesive 5-Layer Silicone Bandages, High Absorbency Foam Bandage, Center Pad Size 1.2" x 3.4" Silicone Foam Dressing, Sacral Foam Dressing, Bordered Self Adhesive 5-Layer Foam Dressings for Wounds, High Absorbency Sacrum Foam Dressing, Soft and Bendable for Fast Healing -- There are many myths and facts about wound care that need to be debunked. Here's one: keeping the wound open and exposed to air helps it breath and makes healing faster. Fact: exposing a wound makes it more susceptible to bacterial infection and further injury. A wound that is protected by a dressing is kept moist and clean and this makes healing faster. Make a life-changing switch today - include the highly absorbent Silicone Foam Dressing in your daily wound care routine. The reliable Silicone Foam Dressing is a multi-layered dressing solution with high absorbency yet breathable features. Its five layers work as one to thoroughly absorb exudate from wounds - it can hold fluid 8x its own weight. The drainage fluid is carefully locked in the absorbent core to prevent skin shredding or maceration caused by too much moisture. Its silicone sponge layer stays in contact with the wound but does not stick to it to facilitate easy removal and changing. The outer PU film is permeable to oxygen and water vapor and acts as a protective barrier that keeps the wound free of contaminants. The Silicone Foam Dressing provides a soft and highly absorbent padding for moderate drainage wounds of varying types and sizes. The soft and bendable material allows it to conform to various body contours and even awkward anatomic positions. It comes in 4"x4", 6"x"6 and a special 7"x7" sacral size, with a center pad thickness of more than 3mm. The wound cover pad is self-adhesive to dry surfaces and does not require secondary dressing. It becomes non adherent when filled with exudate for painless removal. It is great for use on therapy and
✅ SUPERIOR WOUND CARE – JJ CARE's silicone foam dressings for wounds offer high absorbency, great fit, and promote fast healing for most wound types and stages. This self adhesive foam bandages for wounds helps create a conducive environment for healing by keeping the wound moist and preventing bacterial contamination/activity. JJ CARE's silicone dressing wound use is also non-linting which is great for conditions that require regular dressing change.
✅ HIGH QUALITY MATERIALS – Why are silicone bandages better than basic gauze pads? The medical foam dressing is made up of 5 layers: polyurethane film, an absorbent core, a non-woven layer, a PU pad, and the wound contact layer which is hypoallergenic silicone gel. These layers work together to create an absorbent yet breathable surface keeping the wound moist and sterile for a longer period. The adhesive foam wound dressing is also easy to fit over a wound and does not curl.
✅ HIGH ABSORBENCY FOR ADVANCED HEALING – A moist wound environment helps promote fast healing. The breathable foam adhesive sterile dressing thoroughly absorbs and locks in large amounts of exudate while reducing wound bed maceration or the breaking down of skin due to prolonged exposure to moisture. Despite high absorbency, the material does not shred or stick to the wound which is great news for people with sensitive skin.
✅ COMFORT AND PAIN RELIEF – Pain is inevitable in wound care and healing. With the help of the silicone foam dressing's absorbency features, pain and even trauma is reduced. The low-friction soft material also provides comfort during movement and can be used with pressure bandage for bony parts of the body such as the knee. Its waterproof outer layer also makes it easy for the wearer to take a shower.
✅ VARIETY OF APPLICATIONS –The silicone foam dressing works well with mild to moderate exudate wounds such as eczema, cysts, post-operative wounds, bed sores or ulcers, first and second-degree burns, blisters, and other minor traumas. Because it's highly absorbent, it is also the perfect foam dressings for wounds stages II, III and IV. These dressings are excellent for cleaning, changing, and overall wound maintenance.
CUSTOMER REVIEWS
SHIPPING
Free shipping for all orders $40 up that includes eligible items from any product category.
---
PAYMENTS
Accepts the following payment methods:
Credit Card: Visa, MasterCard, Maestro, American Express. The total will be charged to your card when the order is shipped.
PayPal: Shop easily online without having to enter your credit card details on the website.
---
RETURN POLICY
You can return any item purchased on JJ CARE within 30 days from the date of your purchase.